Cloud Solutions for Contact Centers
Predictive dialer software can continuously improve your communication strategies. PIMSWARE has been developing custom software solutions since 2005 and our enterprise class predictive dialer system is available as a standard software as a service (SaaS). The cloud-based dialer system eliminates the need to dial numbers manually; answering machines, disconnected numbers and operator intercepts are handled by the dialer, which improves an agent's productivity. Create more conversations for your agents using PIMS's adaptive algorithm designed to only deliver live calls to your team.
Schedule a demo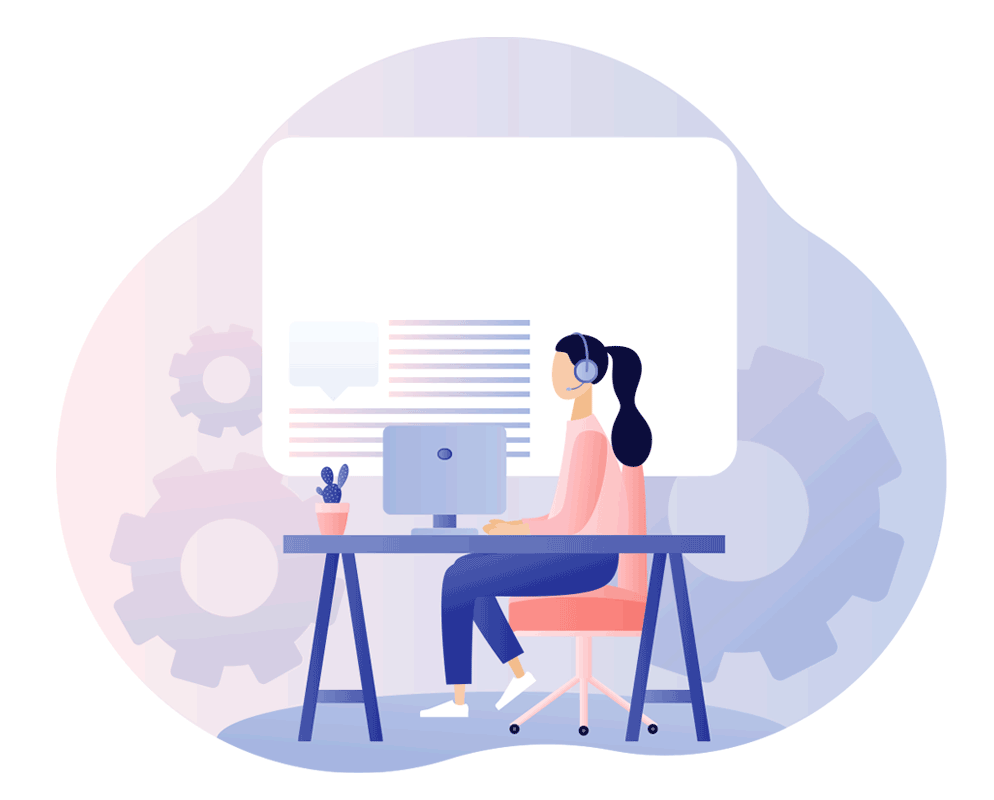 Flexible. Scalable. No minimum users required.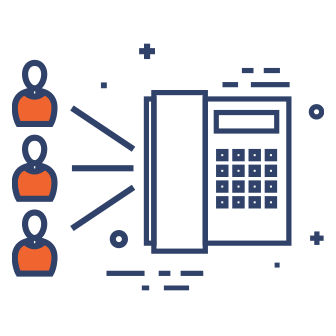 Operate with Efficiency
Access the dialer through an easy-to-use web interface. Multiple carrier SIP trunks with plenty of outbound channels to scale up and down as needed. The dialer system can support remote agents that need to use a cell phone to place calls. You can extended the use of the dialer to include inbound and blended calls.
Real-time display campaign screens
Real-time and summary reports + Data Exports
Campaign and list management
System wide do not call lists or do not call lists per campaign
Workforce Management
Dial up to 4 calls per line (4:1 dialing ratio). All calls, statuses and agent time breakdowns are logged for record keeping and compliance. Multiple call recording settings for flexible management.
*NEW* Secure Capture allows credit cards to be entered by the consumer via the dial pad on their phone.
Quality Assurance
Variable drop call % for FTC Compliance
Agent scripting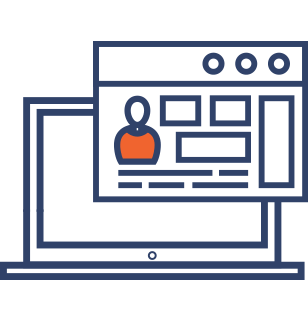 CRM Integrations
Integrate with web-based CRMs and have a customer screen pop-up when a call is answered. Your agent will have relative account information to immediately assist that customer.
Caller identification
Speech enabled IVR
Role-based user permissions
Integrate seamlessley with the PIMS Debt Collection Software and CRM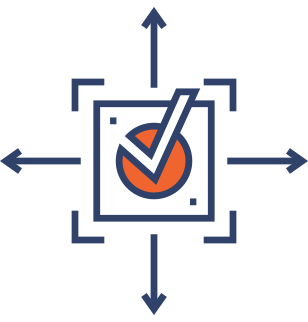 Easy Customizations
Get the most out of the system by making adjustments as your business needs change. Adjust next agent call settings to find the optmial productivity for your firm.
Toll-free and local number options
Post-Call Surveys
Time-zone restricted dialing
Unlimited Call Lists
Unlimited outbound minutes
Our flat rate pricing is all inclusive and we don't require minimum users or a long-term contract. We designed this predictive dialer software to work as a stand-alone dialer or seamlessly with our debt collection products and CRM system.
$175
/ user / month
Unlimited outbound minutes to US & Canada
4:1 Dial Ratio
Training & Technical Support

See it in action
Screenshots
---
Below are a few screens of the the web-based userinterface. Our dialer software seamlessely integrates with our web-based CRM and debt collection system offering a turn-key solution for accounts receivables management.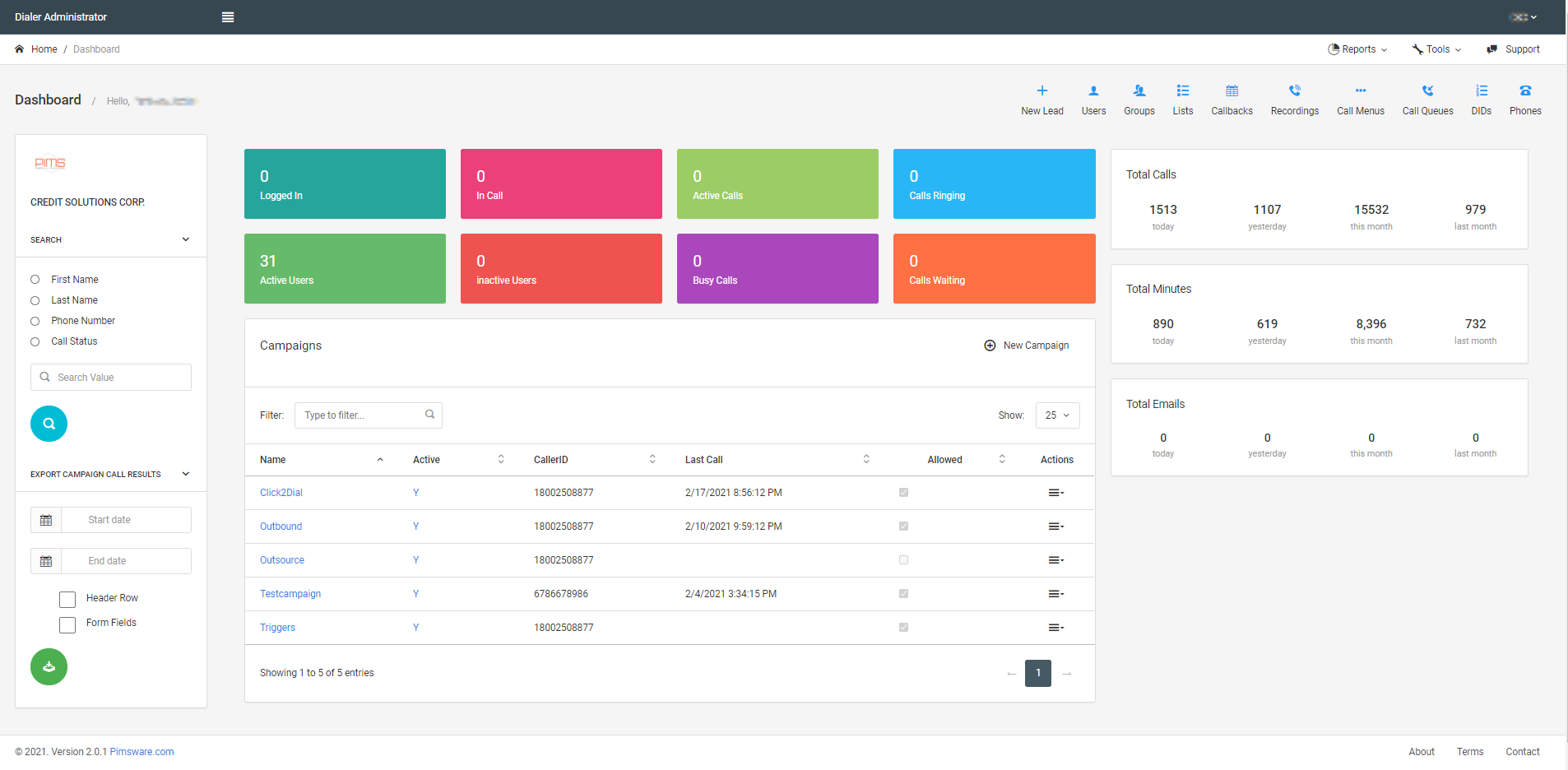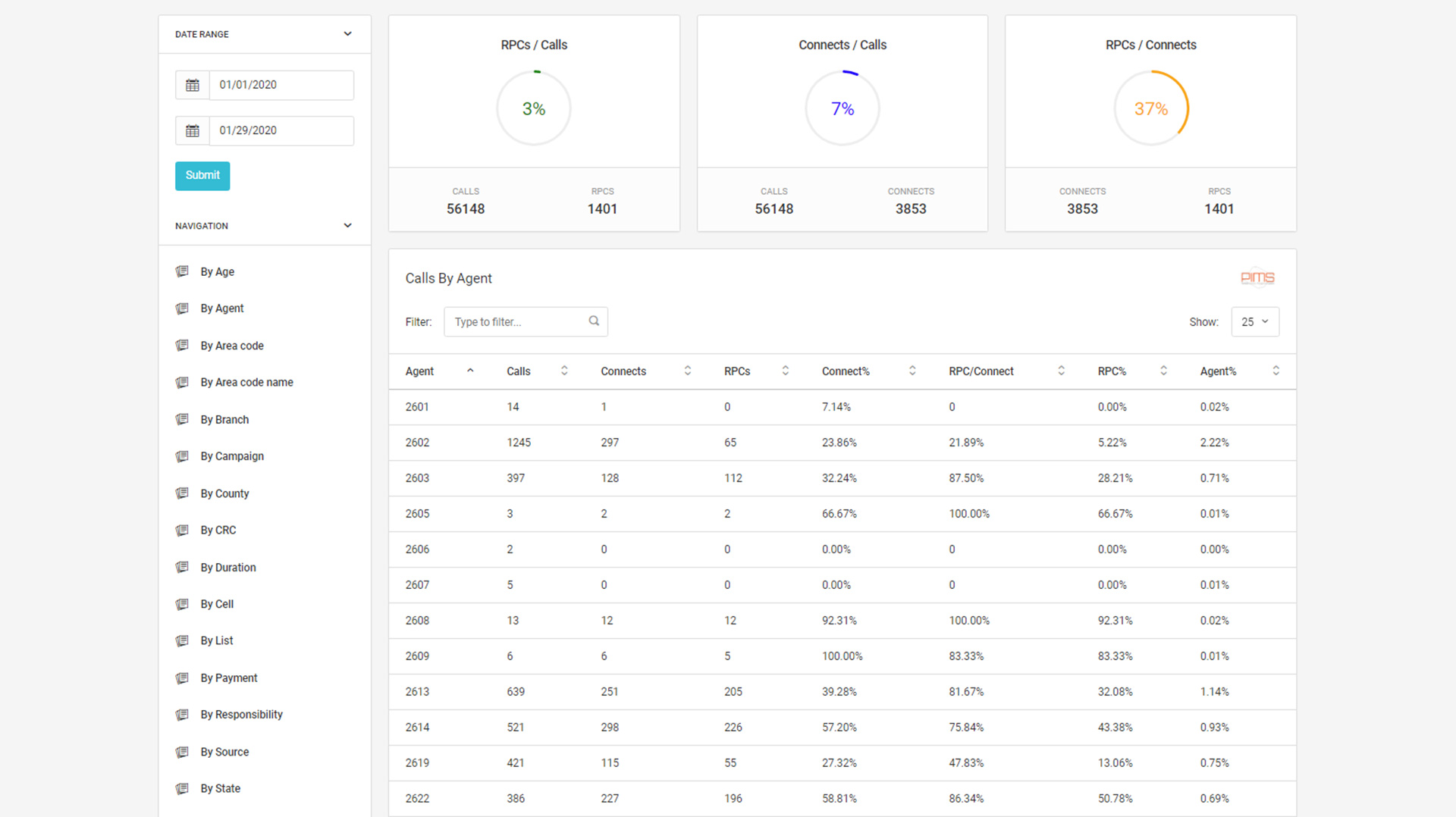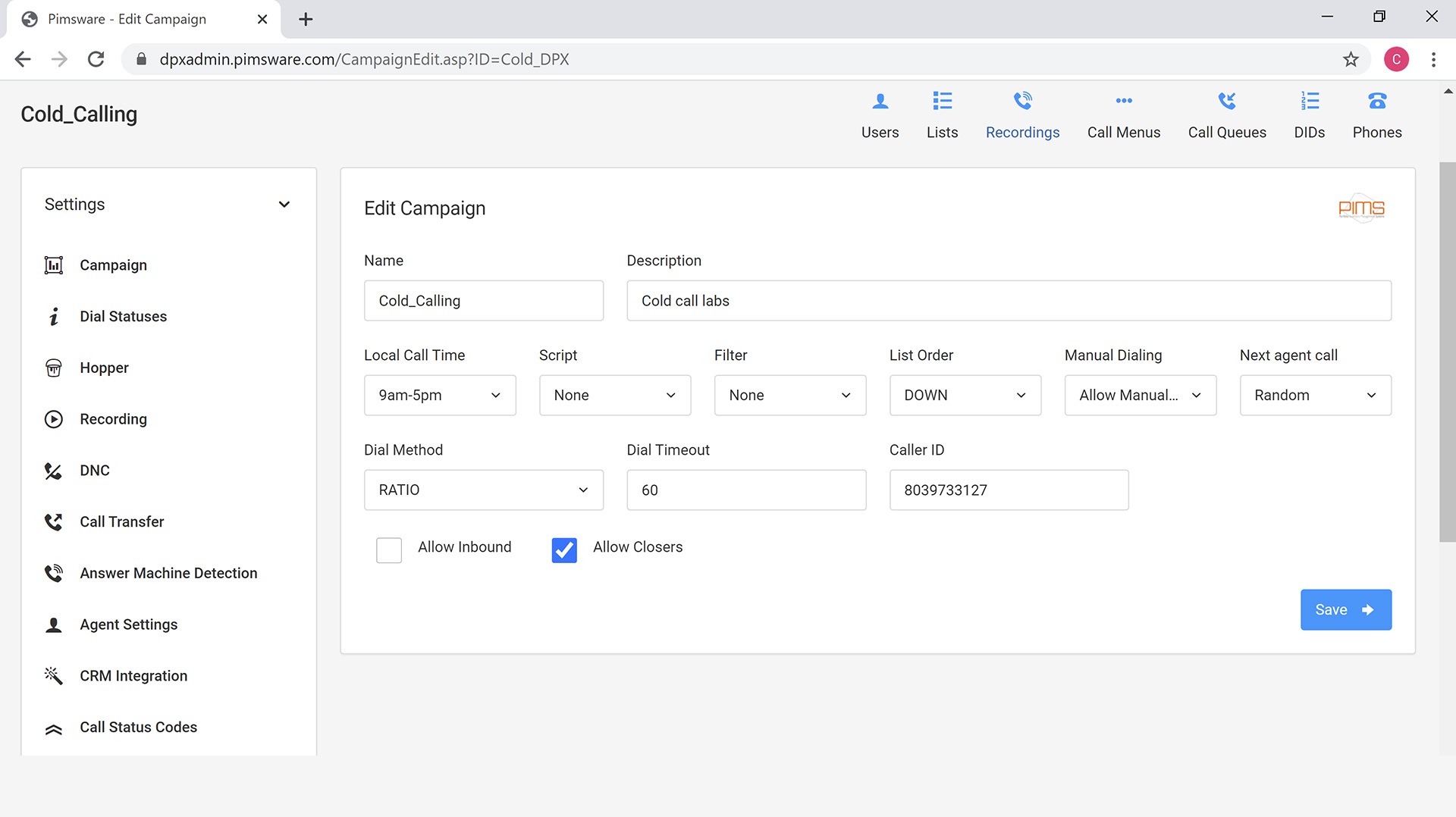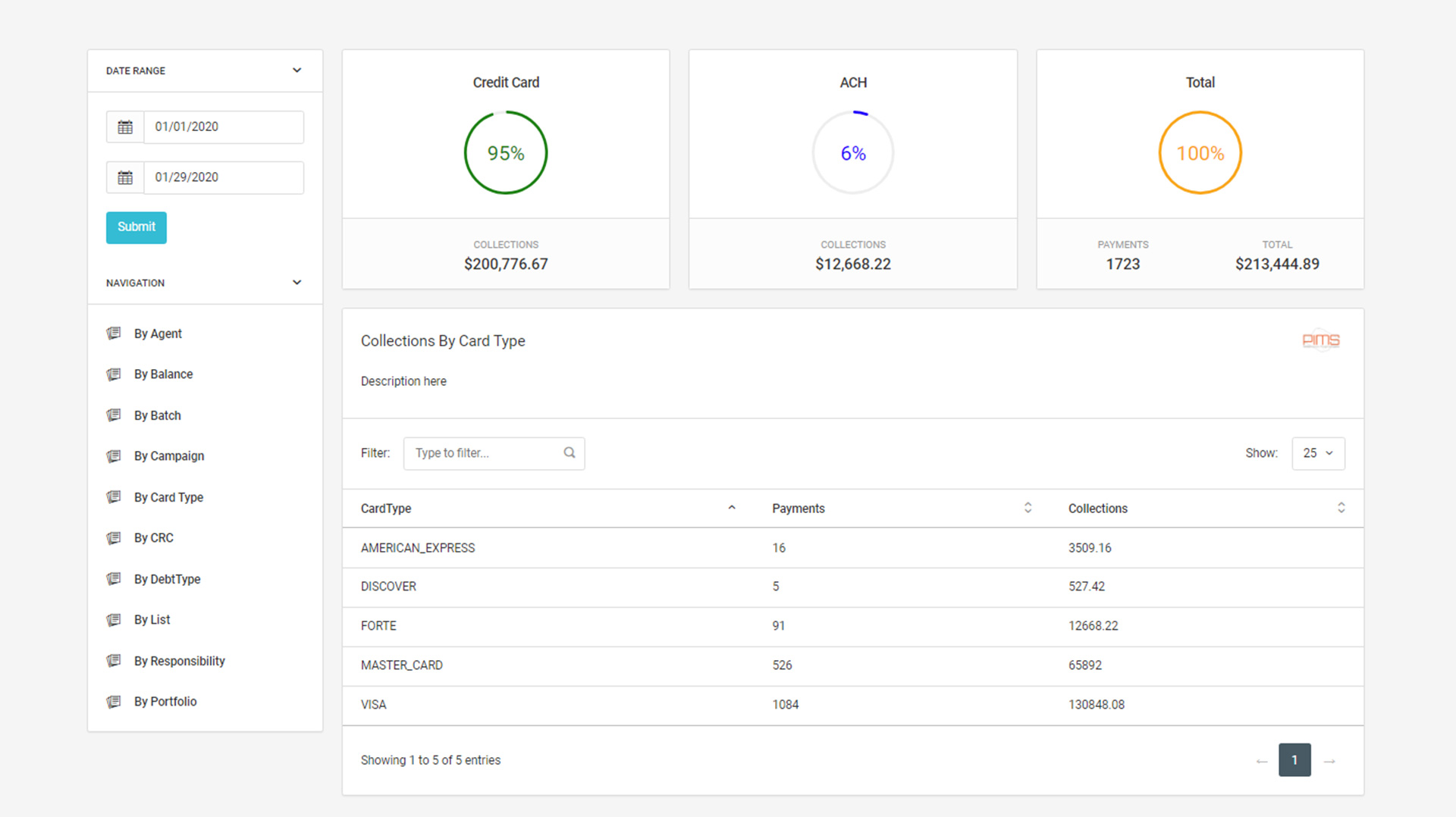 Additional Features
---
Empower your agents with the tools to deliver a better customer experience.
Add an inbound line
Extend the use of the dialer to include inbound and blended calls. Streamline contact center operations and start providing exceptional customer service.
Unattended Agent
Broadcast dial a pre-recorded message. This is extremely functional for getting messages out to a massive group of people or targeted messages for your customer segments. The dialer leaves the message as a voicemail.
1-800 Number
Use a 1-800# to allow multiple inbound calls.This can be a very useful addition to your system if you have a larger inbound call volume.
Local Prescence
Purchase numbers for a local area code to where you are calling so you can change the caller id number displayed. The dialer can automatically detect the area code being dialed and change the caller id to match.
Contact Us
---
Pimsware, LLC.
11720 Amber Park Drive, Ste 160
Alpharetta, GA, 30009
+1 (866) 987 7467 Toll free
+1 (678) 638 2250 local
Sales: Dan@pimsware.com